Try our new game - Indian Train Traveller
https://play.google.com/store/apps/details?id=com.highbrow.IndianTrainTraveller
Available Stations: Chhatrapati Shivaji Terminus - Byculla - Dadar - Kurla - Ghatkopar - Thane - Dombivli - Kalyan.
----------------
Local Train Simulator is another one-of-a-kind of train simulation game from the house of "Highbrow Interactive", the creators of the ground-breaking "Euro Train Simulator' and the chart-topping "Indian Train Simulator".
Local Train Simulator will boast all the features that helped "Indian Train Simulator" carve a niche for itself in the mobile simulation space - and in turn gathering thousands of die-hard fans. From track changing, fully functional signalling system, realistic and route-specific trains, passengers, varied weather options to complete control over settings, "Local Train Simulator" offers everything you have come to expect from a Highbrow Interactive simulation game and more.
During its release, the game features the Central Line of the Mumbai Suburban Railway connecting Chhatrapati Shivaji Terminus with Kalyan Jn. The routes have been designed keeping in mind all the things that make Mumbai such a unique and fascinating city. From skyscrapers to iconic buildings, the spirit of Mumbai shines through in the game.
For the first time, we are introducing a new kind of Career mode featuring uniquely designed levels divided into categories called "Experiences". Our intention has been to recreate the ambience that people associate with rail travel. The conditions range from different weathers, times of the day and special occasions - all brought to life using exquisite ambient sounds and a wide variety of passengers. From catching a train when dawn breaks in "Early Morning", the hustle and bustle of going to work during "Rush Hour",the city halting after-effects of "Mumbai Floods", the consistency and punctuality of the "Dabbawalas",to the festive atmosphere that prevails during Ganesh Chaturthi - the experiences will transport you to the heart of Mumbai.
As always, the game will feature the authentic local train that currently operates in Mumbai. Another big feature of "Local Train Simulator" is the interior view of the coaches. This feature has been a long time coming and we finally decided to launch it with this game.
FEATURES:
1. Track Change: A fully realised track changing functionality has been implemented, as like Indian Train Simulator.
2. Signal: Fully functional signalling system has been brought into play. While waiting for the signal to turn Green, players will be able to see which other trains are currently occupying their path.
3. A Message System is in place to notify the user of every activity happening within the game, offering suggestions when deemed necessary to information about penalty and bonus. The categories are Speed, Station, Track Switch, Route, Signal.
4. Stations: The stations were designed to capture the feel of being in Mumbai local railway station.From the kiosks to the advertisement boards, the attention to detail is extreme.
5. Train Interior: For the first time, you will be able to view the interior of the bogie with the passengers.
6. Camera angles: multiple and interesting camera angles have been provided: Driver, Cabin, Overhead, Bird's Eye, Reverse, Signal, Orbit and Passenger.
Thank you for being with us and making the "Indian Train Simulator" a mega-successful game. We have tried to make the Local Train Simulator in such a way that will make you feel of being travelling in the actual Mumbai route in a Mumbai local train.
Feel free to suggest your own ideas in the comments section.
If you have any issue with the game, feel free to write to us and we assure you we will resolve them in an update. You do not have to give us a low rating to get our attention. We are listening!
Join the official Facebook group for Indian Train Simulator: https://www.facebook.com/groups/1641719206148118/

Indian Local Train Simulator free download - Electric Drive Train Simulator, ArcRail Train Simulation, Euro Truck Simulator 2, and many more programs. Download the latest version of Train Simulator Mumbai Local for Android. Drive a train through the famous Indian city of Mumbai. Indian Local Train Simulator is in the category of Simulation. You can check all apps from the developer of Indian Local Train Simulator. Currently this app is for free.This app can be downloaded on Android 4.4+ on APKFab or Google Play. All APK / XAPK files on APKFab.com are original and 100% safe with fast download. The description of Local Train Simulator Free Local Train Simulator Free: Driving a powerful train from your familiar local stations to the other is a beautiful dream. This game is based on a famous classic train simulation game loved by many, with some variations to make it more addictive and better for you. In this video you will learn How To Download Microsoft Train Simulator Game on PCMicrosoft Train Simulator http://feverofgames.com/microsoft-train-simulator.
Train Sim World 2020 made by Dovetail Games. It is exactly what it sounds like. It is a game that is a train simulator, the clue is in the name. As you can see, Dovetail Games have gone with catching up with the years. Kind of how to like how 2k does with their new release but that a whole other rant. So, who is Train Simulator 2020 for? What does it offer to the players who like simulator games or are looking to try their first simulator game? Is it pleasing to the eye? Are the controls as realistic as what a real train driver would have? And how does it stack up to its rival Train Sim World 2? We will answer all those questions and more in this review.
Gameplay
Let us start with what I would argue is the most important part of simulator games. And that is the gameplay. To start with, there is an option tutorial that talks about the player through movement and controls. Great to see if this is the player's first time playing a simulator. So, the player has an array of different modes to choose from. There are quick play, career mode, and different scenarios.
There are options to use different locos and different routes that the player can take advantage of. The player also has the option to create their own in-game player as well. There is a variety of uniforms to kit the playable character with. This game stands out a bit as it allows the player free movement within the game. That is right, the player can leave the train, simulating walking. The player can also ride the trains as a passenger. I think that is pretty cool, as not many simulators allow that in general, very mind train simulators. Can you have access to all the controls as if the player was a real train driver? Well as far as I can tell yes.
So, for the many different locos that the game offers, and of course each and every train has its own controls and systems that are used. The player can plug up some different types of controllers to use during the game as well. Although I should point out that there are a limited of controllers that are natively supported in the game.
Graphics and performance
The game is built on an older game engine which means it's not made from the hottest and newest stuff. The graphics were clearly focused more on the actual locos than the surrounding environment. Or at least that what it would seem from my perspective. Do not get me wrong, graphics are everything, but it sure does help sell a game if the graphics are stunning.
Earlier I was speaking about how the player can customize their very own in-game character, well the graphics definitely were not focused on this as it just seems like the character is a huge block with details here and there to make out what part is what on the body. Performance is one key factor in this. If a game does not prefer well how can you enjoy it? There have been outcries from players that Train Sim World 2020 is actually just a copy and paste with more content from the previous year's game (Train Sim World 2019 of course). The reason for this outcry? Well, it is like buying a whole new game that is exactly the same as the old one, just with updated graphics and some new stuff.
My verdict
Microsoft Train Simulator Free Download
Out of 10, how do I rate this game? Well if I was looking at this game and not comparing it with other games it is a decent game. Yeah the graphics are the best in the world and the game is built on an older game engine, and the player does not have a lot of options to use different controllers but the game does allow for other things. Things like being able to ride the train as a passenger. Ahnlab online security download. Freedom of movement around the game. But if you start to compare this game with other games, say Train Sim World 2, the player may be more integrated to move games.
Due to support for DLCs, wider controller support, and being built on a newer game engine, better graphics. So out of 10, I would give it a 6.
Pros
Freedom of movement, riding the train as a passenger
Character creation
Realistic game controls as a train driver
Cons
Built on an older game engine
Graphics could be better
Controller support is limited (at the time of writing this review)
Local Train Simulator Free Download Pc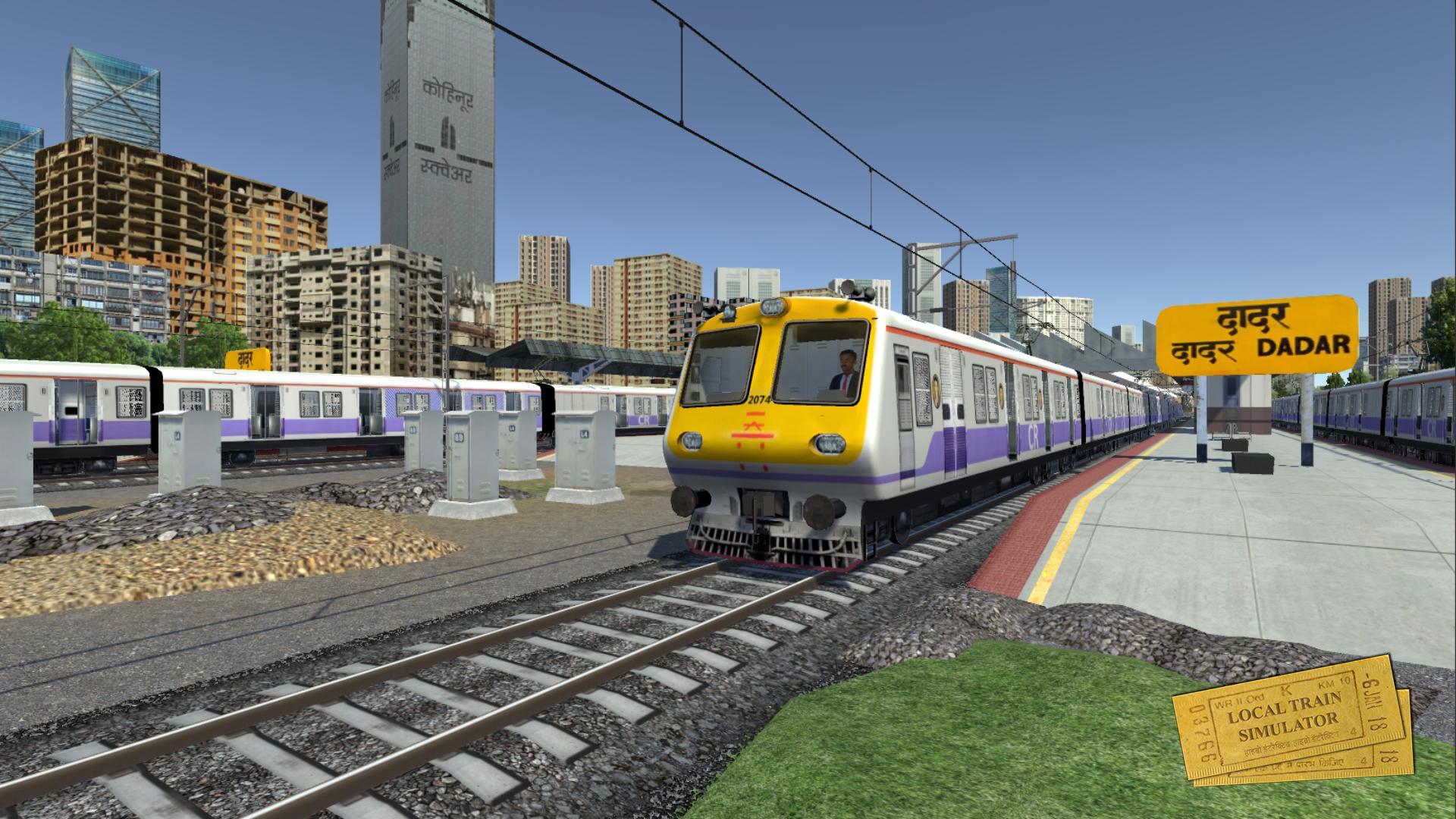 Train Simulator Game Free Download